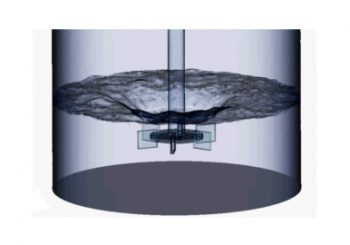 I had the chance some weeks ago to spend a day at the site of one of our SC/Tetra users. They showed me a small mixer in their lab on which they make some demonstrations and test measurements for their students. They also created a CFD simulation to model the mixing process and because it was so interesting, I got inspired to build a free fluid surface CFD simulation with an other mixer geometry. The aim was just to play with it a little bit and to show what interesting features such a mixer had. Later on in 2020 we took this study even further in a live webinar showing the whole simulation process.
One mixer with two water levels
This mixer contains water, the fluid has a free surface that changes while the agitator is in operation. I also used SC/Tetra's particle tracking function where I applied marker particles (no mass of particles involved) to make the flow patterns visible.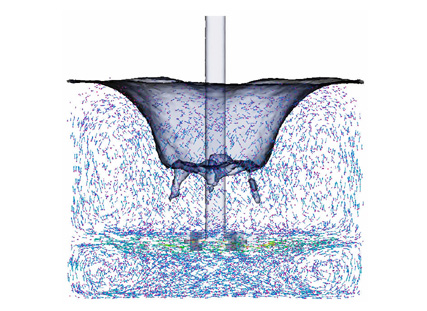 There were two water levels used. One is away from the agitator, one is close to it to see the difference between them in terms of free surface shape.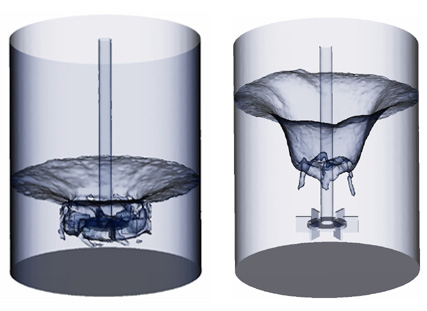 On the one with less water in the mixer you can see that free surface reaches the agitator. This is quite bad for the mixing process. Actually in real life applications the vortex in the middle should be minimized. There is another important thing what mixer designers look for: the torque on the axis of the agitator. SC/Tetra calculates momentum both from pressure and viscous forces automatically. It also creates a graph of them as a function of time, so this point is checked too.
Take a look at the two videos below.
This little example can be tuned even further. With heat transfer involved we can make SC/Tetra calculate turbulent heat transfer coefficients, heat fluxes at the walls. This gives accurate numbers on how the fluid inside the mixer can be heated or cooled.
Dr. Robert Dul